We met so unconventionally
Far away we were
Yet so close, so meant to be
that distance became a blur.
It was not easy, it was not hard
You joined me and my dove
You left your home, your friends for me
We wed, so thankful for your love.
Not a day does pass
that I don't think
about the blessing God has given me
Your love, our life, our babies ~
more than I imagined it to be.
I love you more
with each new day.
And every moment
we make our way.
You are everything I wanted.
You are everything I breathe.
So thankful for you J,
you are and always will be
the only thing I need.
An ode to the man I love, my best friend, my life.
Written by ME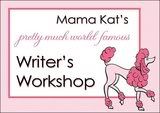 Another Mama Kat's Writer's Workshop inspiration.