I thought I'd warm things up with a post that brings back a little feeling of Summer.
Just recently, my Dad announced he is taking all of his girls, his son-in-laws and grand kids to Mexico next April on a family vacation ~ his treat!  We are all very surprised he's doing this because he already did this once before back in February of 2007.  All ten of us flew together to Puerto Vallarta Mexico where we enjoyed seven wonderful days in the sun. It was the first time ever that my entire extended family went on a trip together. We had so much fun! My hubby captured it all on a special DVD he made as a memoir.
We stayed at the Palladium Hotel and Spa Resort. It is located up on a small mountainside and has it's very own private beach. The landscape that surrounds the area is beautifully covered in colourful flowers and greenery.
Most of the time, we hung out poolside so that we could dip in and out of the water when it got too hot to endure. The kids, however, spent most of their days building sandcastles, riding the waves on boogie boards and running up and down along the shore.
It was so nice for my sisters and I, along with our parents and families, to be able to do a family trip of this kind. We are forever grateful to our parents who so very generously made it all possible. The grand kids loved every minute of the trip. They can't wait to go back!
Although, I didn't get to lay in the sun all day, I did manage to get at least 2 hours of free sun bathing time while Little B napped in her poolside tent. My hubs was really good about watching our eldest daughter and playing with the rest of the kids down at the beach so I could get my well-deserved Mommy-time. Is that a good husband or what?
The vacation week consisted of all-you-can-eat-and-drink, nightly shows, day-time activities and sports, walks along the beach,  and a trip into town for the day to shop and get a feel of the culture.  Lots of shops and restaurants to visit downtown. We took a ton of pictures and spent our pesos.
I have posted a few more photos for you to see.  Enjoy!
Big and Little B playing with me in the sand.
Little B and I having lunch.
My parents lounging poolside.
My baby sis and little nephew at dinner.
My other sister posing after a nice dinner
at the Mexican restaurant.

My brother-in-law hanging out with the kids.
My hubby boogie boarding.
I am so looking forward to another family vacation next April.
This time around, we're going to Los Cabos!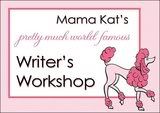 This post was inspired by Mama Kat and her Writer's Workshop.