I know Spring isn't for another 7 weeks but I couldn't help myself. Yesterday, I went a little bit crazy cleaning house.  Before I knew it, I had begun my Spring cleaning gig a tad bit earlier than expected. Surprised at all? You shouldn't be. That's just how I roll.
It all started with me feeling overwhelmed because I had left the weekly house cleaning chores till the weekend. Yes, it happens sometimes girls and to the best of us I'm sure. I was not impressed with myself to say the least and even better, hubby was sick and was in no condition to help me catch up with the chores. When it rains, it pours my friends!
I digress …
So I began with vacuuming the carpets, to sweeping and washing the floors, to cleaning the washrooms, to doing the laundry.  So much for the lovely cleaning schedule I created to keep myself organized with cleaning duties. No, I'm not perfect and sometimes I fall off the wagon. I actually fall off a lot these days but that's another blog post. Stay tuned!
And I digress again …
While in the depths of frantic domestic upheaval, I found myself switching modes and before I knew it, I was collecting, organizing and purging: the three signs of Spring cleaning in my house. In no time, I had bags full of toys and clothes all ready for pick up by a donation company. In no time, I had also collected, moved and re-organized all of the kids books in the quiet room by placing them on a lovely little black trolley on wheels that was being wasted sitting shoved into a corner in our upstairs landing. Wasting the good use of furniture is a big no-no in my house. If I can find a way to use it to organize stuff, I will. I have skills people, great skills!
To no surprise by anyone who knows me well enough, I ended my cleaning frenzy by colour-coding the clothes that hang in my closet. I also lined up the shoes according to categories: boots, Summer sandals, high-heels, work shoes, flip-flops, athletic wear, etc. and when I was finally done, I stepped back to evaluate the finished product.
I. Was. Mesmerized.  What a beautifully organized and pretty looking closet I had created! If only my work friends could see it in all of it's glory. *Sigh* … the feeling was short-lived my lady friends because the minute I looked over to my husband's side of the closet, the feelings of mortification came over me and all was lost. I tried!
The moral to this blog post? None, except maybe … you identify with my freakishly insane tendencies to clean and organize anything I can get my hands on. I organize when I'm happy, when I'm sad and definitely the best when I'm mad. Ask the hubby, he's seen me in mad action. It's not pretty.
Have you started your Spring cleaning? Do you enjoy organizing as much as I do or am I just insane?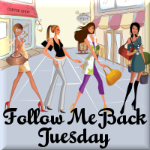 Hosted By:
Survey Junkie, Little Yaya's & Boobies,BabiesAndABlog