Games are fun and children love playing them. It's amazing how much they can learn through game play and how easily parents can tweak the games to teach various things.
How about BINGO?
Bingo has been around for years! Everyone knows how to play and it's a great game to have in your home. You can take the idea behind BINGO and turn it into a teaching tool for you and a learning experience for your kids. Read on …
At our house, Little H is learning her colours, identifying them and saying their names. One of the ways we are helping her to learn them is through playing COLOUR BINGO with her. She thinks it's fun!

Here's what you do!
To prepare for this game:
Give your child a Bingo Card Template which is a 4 x 4 white grid. (You can make and print one off of any word processing program too.)
* Have him/her draw a smiley face in one grid to designate a free space.
*Then provide your child with an array of colourful crayons or markers and have them colour each square on the grid a different colour. (Repeating a colour or two is okay.)
* Give your child counters to use as game markers. * Then play the game as in the traditional game, except that each time you call out the name of a colour, your child has to place the counter on that colour on his game board.
Other themes you can explore using the Bingo card template are … letters, numbers, shapes, sight words, word families and addition facts.
Amazing how one simple game can teach so much!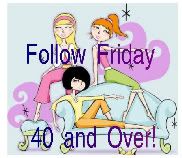 This post is linking up with Java at Never Growing Old
for her Follow Friday: 40 and Over!