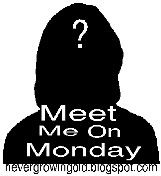 Today, I'm linking up with Java over at Never Growing Old for Meet Me on Monday! A great way of getting to know the girls/guys behind the blogs you follow!
Here are this week's questions …
1.  Do you like your ice cream in a dish, waffle cone, pretzel cone, sugar cone or cake cone? I love ice-cream in a waffle cone. To be more specific, I love Mint Chocolate Chip or Rocky Road ice-cream in a waffle cone. I absolutely love the taste of the waffle partnered with the flavour of ice-cream. It's to die for!
2.  Do you read the newspaper daily? I'm embarrassed to say that I don't read the newspaper at all. I do watch the news on television and listen to the radio on my way to work.  I also read the news on-line. Who has time with three kids?
3.  Marinara or meat sauce? Being that I was raised by Italian parents and pasta is the major staple of the culture, a meat sauce on my spaghetti is my favourite. Now that I'm older though, I'm leaning more towards the Marinara sauce as it's lower in cholesterol. Gotta watch my cholesterol!
4.  Last time you cried? I would have to say I cried last night while watching the Miss America Pageant on television. I was so happy when Ms. Nebraska won. She is the most amazing pianist. Very talented!
5.  What word/phrase do you find really annoying? The word I find the most annoying is whatever. I can't stand it when anyone uses it never mind my teen and my husband. To me, saying whatever is like brushing off a conversation or a person. It's just a rude word.