1.  Did you get any Valentine's Gifts?

Well, my kids made me chocolate chip cookies yesterday. I wasn't feeling well and was hiding out in my room trying to rest. They brought me up two cookies and a glass of milk along with a few little hugs as well. We're celebrating Valentine's Day tonight with a picnic dinner. We have all of our favourite treats and then exchange gifts with the kids.  We end the evening watching a family movie together. It has become a yearly tradition.  The girls always have a great time! Daddy and I do too.
2.  What is your favorite topping on something toasted?
I love peanut butter on my toast in the morning for breakfast. It's my first choice. Second choice would be Hazelnut Nutella Chocolate spread on my toast. It's yummy but I don't have it very often.
3.  Do you pick out your outfit the night before?
I always do because I wake so early in the morning and don't want to make noise and wake the kids. It saves me time om the morning when everything is organized and ready to go.
4.  What food item do you absolutely despise?
I absolutely despise Brussels sprouts no matter how they're cooked or what they're covered in. Yuck!
5.  Righty or lefty?
I'm right handed for everything.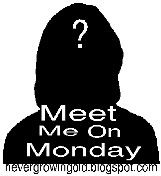 Today's post links up with Java from Never Growing Old as part of her meme, Meet Me on Monday!  If you'd like to participate, head on over there and link up!