I'm linking up today with Kimberly from over at All Work and No Play Make Mommy Go Something Something for her Secret Mommy-hood Confessions!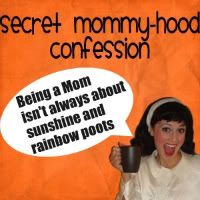 So here we go:
1. I absolutely *love* watching old 80's movies because it reminds me of my teen years and gives me that warm and fuzzy feeling all over.
2. I send my hubby little email *love* letters almost daily so he knows I'm thinking about him.
3. I have only a handful, if that at all, of girlfriends I can call best friends and I'm okay with that. Better to have only a few good friends than a lot of friends who really aren't true to you.
4. Sometimes, when I'm tired and grumpy and over-worked as a Mom, I secretly wish for my old, single life back. After I pout for a while, I snap out of it and realize just how lucky I am to have my sweet, little life filled with family I love and adore. We all have bad days!
5. I'm a bit of a geek when it comes to Facebook, blogging and Twitter. If I'm not doing one of these three things daily, I'm doing the other two. Hubby thinks I'm a tad bit obsessed with hash-tagging #wineparty with my Twitter friends on a Friday night. Seriously though, it's so fun!
What are some of your confessions?