Not including yesterday's post, I was MIA for about a week. Writing report cards trump blogging and since it's that time of year again, I took a blog break.
Believe it or not, the blog break made me feel a little weird. Not a bad weird, a good weird. I have to admit that I think I was almost a little happier when I didn't have to think about the blog or brainstorm possible topics for it.  I cut myself off from Twitter and Facebook and that felt really good too.
You have no idea how much more I got accomplished around the house. My cleaning and laundry and cooking duties all stayed up to par and didn't fall behind at all. Normally, I can't keep up with everything. Once the weekend came, I actually had more time to just lay low and do nothing.  How often do I get to do nothing? Never. Nada. Wish away!
Interesting.  * This is when my revelation kicks in. *
When I decided to get into blogging, it was suppose to be just for fun. A way I could entertain myself, write because I love to and do something that would make me feel valuable when at home with the kids and away from the classroom. That's not to say that I don't feel valued as a Mom, however sometimes it is the case, it's different from knowing your students rely on you and your readers look forward to seeing what you have to say today. Does that make sense? Those of you who blog, will say yes.
So I started to think about my little revelation and it became obvious to me that perhaps I've lost my focus since starting to blog and taking a break from it allowed me to see just that.  What started out as fun, slowly became more tedious as I began placing way too much emphasis on posting every day rather than maybe only once or twice a week. Do I really need to post something daily? Definitely not. Why was I doing it? Pressure on myself to maybe keep up with other Mommy bloggers who do.  What I quickly had to remind myself of is that I don't stay home full-time. I work half the week away from home and then care for my kids the other half of the week from home.
I. Don't. Have. A. Lot. Of. Time.
The time I do have when I'm home is limited to when the kids are either napping, in preschool or gone to bed for the night. That's not a lot of time. Since I don't want to be writing away on a computer when my kids are awake, I blog during those times I mentioned above. Things changed for me when blogging started to take up most of my *ME* time. What about time to read because I love to? What about time to watch my latest Netflix show obsession, Being Erica? What about spending time with my husband? My blogging started to interfere with other things I love and need to do. I was beginning to not cope well with limited time nor was I happy about any of it.  Taking a break from blogging to write report cards last week was the best thing I could have done.
Kate, from Mommy Monologues posted something today that really hit home for me and reading it made me realize that maybe all bloggers eventually have to stop and refocus themselves every once in a while. If you're interested in knowing more, you should go on over and read her post!
I've now decided, my dear readers, that I will not post every day any longer. So if you come to visit me, don't be alarmed to see nothing new. It's all good. I'm good. What you can do, instead, is subscribe to my blog. See the link on my home page? You can get notifications via email saving you the time of having to check my blog daily. You can also subscribe to me on Facebook under Networkedblogs or join my fan page Bees With Honey.  If you're on Twitter, I tweet any new blog posts there on a regular basis as well. Either way you connect with me, you're sure to never miss a post.
I really want to thank all of you who come and visit me here and who read me daily or weekly. I know most of you are family and friends but it really doesn't matter to me. I am grateful for your love and support. Blogging makes me happy but knowing that someone out there is reading me occasionally, makes me even happier. I'm no big shot and have no intentions of wanting to be one. I blog simply because I love to.
And I love all of you too!
xoxoxox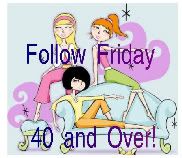 Linking up with Java from Never Growing Old for Follow Friday!