I'm linking up with Kimberly from All Work and No Play Makes Mommy Go Something Something for Saturday Secret Mommy-hood Confessions.  Let me first say that I love reading Kimberly's blog because she's so down to earth and writes with such honesty and compassion. You should definitely check out her blog!
~~~~~~~~~~~~~~~~~~~~~~~~~~~~~~~~~~~~~~~~~~~~~~~~~~~~~~~~~~~~
Confession: I hated my Mom.
I remember being twelve as the time when my Mother and I began butting heads. She use to get on my case to clean my room, do my chores, brush my teeth and make my lunch every day. She went from being fun and cool to being mean and unfair almost overnight. At least that's the way it felt to me at the time. We argued a lot and I remember feeling like my Mom just didn't understand me. She didn't understand what it was like to be me and to be twelve.
I digress for a moment …
Now that I'm a Mom to an almost thirteen year old daughter, I feel as if I'm re-living a time in my past.  I am, therefore, dedicating this post to Big B because she follows my blog and since discussing issues with each other doesn't always pan out like I hope for, I thought maybe she'll see I do understand her by writing about what it was like when I was twelve and how I felt about my own Mother.
I was not always nice to my Mom.  I talked back to her, told her to chill, rolled my eyes at her and sometimes walked away from her when we were talking and I didn't like what she was saying. When she lectured me, I sang the song "Blah, blah, blah …" inside my head. I even called her bad names in secret and complained about her in my diary. I knew then that I wasn't being very nice to her but then I also thought my Mom wasn't being very nice to me. So, I felt justified in treating her the way I did. When you're a teenager, you think you know everything. I thought I did. Truth is, I knew a lot but my Mom, she knew more. She had already been a teenager . So even though I felt like she didn't ever understand me or my feelings, the truth is, I really didn't understand her either.
Now that I'm a Mom, I know how hard it is to work outside the home and take care of a family and a home. My Mom was always busy cleaning, cooking, washing, folding laundry, grocery shopping and taking care of us kids in every way. No one helped her much and she never really had much time to spend doing what she enjoyed because she was always so busy doing things for us.  Mom nagged me because she just wanted someone to help her with chores around the house. Actually, all she wanted was for everyone to just pick-up after themselves. She reminded me constantly to do things because, honestly, I would always forget. When she nagged me to take a shower, it was because if she didn't, I would never take one. Gross, I know. If she nagged me to make my lunch for school the night before, it was because if I didn't, she'd get stuck making it for me in a rush the next morning when she was trying to get out the door too. If she nagged me to clean my room, it was because she wanted one less thing to have to do herself and she wanted me to take responsibility for what was rightfully mine.
Mom had nothing but my best interest at heart and making me clean my room, do chores, babysit my sister and take care of my personal hygiene, was her way of trying to ween me off of relying so much on her to do things for me. It was her way of helping me to become responsible and accountable for myself so that I can be the best ME I can be!
I think I turned out great … and I have my Mom to thank for that.
" Big B,
I love you more than words can say. I don't mean to nag you or get on your case. Don't think that I don't understand how you feel because I do. I was your age and felt exactly the same as you do. I just want for you to grow and become independent and responsible so that I don't need to worry about you so much. If you help around the house, I have less to do and we have more time to spend together doing fun things.
It's as simple as that".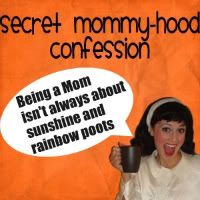 Linking up with Carri from
Adventures In Mommyhood for Sunday Funday!