Alright, I'm just going to say it.
I'm sick and tired of germs, bugs, flu, coughs, snot, runny noses, fevers, nausea, diarrhea and not sleeping through the night!
C'mon already. I think we've all had enough this Winter and guess what? It's not Winter any longer. It's suppose to be Spring. Remember that season? The one where the temperature warms up, the flowers bloom, the sun shines and the god awful, germy bugs go away!?!?!
I just wanna sleep. Through an entire night. Without being constantly awaken by sneezing, coughing, hacking, choking and whining. Is that too much to ask?
Why is it that every time Mama starts to feel a little bit under the weather, one of the kids gets sick and Mama ends up up all night trying to comfort and console said kid? Can said kid get sick when Mama isn't sick too?
Sick Mama + sick kid = Mama gets no sleep = disaster
I'm so done, Mother Nature! You need to get your lazy ass off that cloud in the sky and start making Spring happen. You need to tell Mr. Cold to fly south for the Summer so Mrs. Warm can make her appearance here and … now!
I don't want to wipe any more runny noses.
I don't want to teach little ones how to blow any more noses.
I don't want to administer medicine.
I don't want to see puke or mushy poop.
I don't want to hear any more croup-sounding coughs in the night.
I don't want any more whiny, miserable, sick children.
I just want to sleep. An entire night. Uninterrupted.
And I wanna wear my flip-flops.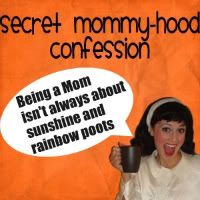 Linking up with Kimberly from All Work and No Play Make Mommy Go Something Something today for her Secret Mommy-hood Confession …

… and Carri from Adventures in Mommyhood for her Sunday Funday link-up!