I hate dislike people who interrupt me when I'm talking.
What's even worse, is that it absolutely frustrates me when people I love do it. Random friends, co-workers and family members do this to me all the time.
It drives me crazy.
I'd like to think I'm pretty polite and that I follow proper etiquette when interacting with people, even my closest friends.  We're taught in school that you don't interrupt someone when they are talking. You wait patiently until they're finished saying what they are saying and then you're free to jump in with a response or a rebuttal. Heck, I make my first graders practice this skill every day!
Doesn't everyone know this?
It happens to me with family. My Dad is the King of interruption!  He interrupts me mid-conversation all the time to add his two bits without letting me finish what I have to say. My Mom has learned how to perfect this skill too and it's because she's had a great teacher all of these years, my father. So now my entire family, when together, participates in this interrupting each other mid-conversation and it's blatantly obvious it annoys everyone when it's done to them but everyone continues to keep interrupting each other. Granted I come from an Italian family so everyone knows how loud and obnoxious we Italians can be. ( Yes, we really do talk with our hands and sound like we're yelling when we're not). No matter the reason, interrupting others mid conversation is just not nice. That's my family though. They're not going to change. They've been like this for years and honestly, I think the interrupting behaviour is part genetic. Trying to get them to change their ways now is just wishful thinking.
And I move on …
It doesn't end with family. People at work interrupt me too! I can be telling a story in the staffroom and not even mid-way through my tale, a co-worker will interject with a comment and then go on to tell their own related story. I listen. I wait. No one ever says, "Sorry for interrupting Bruna, go on and finish your story".  Nope. At this point, I don't even bother to say anything. Instead, I let the frustration of being constantly interrupted fester deep within the realms of my being. I think I'm bothered the most, when it's my friends who interrupt me and especially the ones who know how much I hate being interrupted by others. They still do it and it's beyond me if they even realize they're doing so.  Sometimes, I think they don't and other times I think they just like being centre of attention.  I don't know and I don't care. I just don't like it.
Stupid, stupid me, I know!  I'm just too darn nice to say anything.
At first I didn't speak up because I didn't want to sound like a whiny baby or come across as bitchy.  Then I attempted to get the message across with subtle joking. Joking aloud about how I hate being interrupted and poking fun at a particular friend or two when they did interrupt me. I always got the "sorry" but the behaviour continued as if forgotten, which then leads me to believe that these people don't even realize that they do what they do.
So instead, I've decided to blog about it. The people who interrupt me also read my blog. Maybe in writing about how much being interrupted annoys me they'll get the picture and be more conscious of their behaviour. I love my friends and co-workers. Having them in my life keeps things fun and interesting. It's just not that fun when you can't share your feelings, ideas or stories with them because they never let you finish talking!
My dear friends … you know who you are … quit it!
I don't like being interrupted.
It's not fun.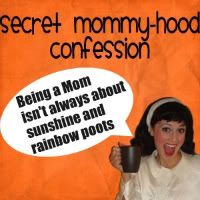 Linking up with Kimberly from All Work and No Play Make Mommy Go Something Something for her weekly Secret Mommy-hood Confession meme.