I hate loathe bathing suit shopping.
I always have.
Those of you who know me in *real* life are probably rolling their eyes because you think I'm so small and petite. What should I be complaining about, right?
Wrong.  I have tons to complain about.
Being small (a.k.a. short) and petite doesn't mean crap when you're shopping for a bathing suit or a bikini. Alright, so maybe my legs are still slim and I'm only 6 pounds heavier than I was pre-children. That extra 6 lbs on my body, let me tell you, is all in the wrong place! Oh, how I would love to be able to move weight gain around on my body to balance things out. All of woman's problems would be solved if we could this.
I digress to my youth …
When I was younger, I prayed for wanted extra weight on the top half of my body. (You know where I mean.) It never happened and, let me tell you, I waited a long time to see if it would. I looked forward to the day when I would bare children because so many women swore to me that they became larger on top once they had kids. It didn't happen and I tried three times = three daughters.  So I gave up in that department.
Now, as a grown woman, I have that extra weight and it sits around my mid-section (muffin top) and it's found its way to my bottom (J-Lo butt)  too. My mid-section and my butt are the lucky recipients of extra weight. You can only imagine my joy.
Back to bathing suit shopping …
Every friggin bathing suit and bikini I tried on was a big ol' disappointment. I tried bikinis, full bathing suits, boy short bottoms, tankinis …. you name it, and nothing made me look the way I wanted to look.
I want to look like this.
I actually look like this.
Needless to say, I did buy a bikini. I refuse to wear a bathing suit because they're dull and boring and signify old age ( to me ). My bikini is very nice and I'll wear it but it'll be covered up by my new sweet little bathing suit cover. Yeah, that's right. This mom ain't walking around the pool and beach with stuff hanging out for all the world to see. I have a reputation to protect. (The one where everyone thinks I'm so small and petite.)
So I pour my heart out to you today, my lovely readers, because I know you will feel my pain. All Mom's do.  Some of you Dad's will identify with me too because we all know what happens to Dads post kids = yes, they get a muffin top too. Or is that called a beer belly?
In the end, I realize how lucky I really am to have a muffin top and a bit of a J-Lo butt. It is a gift given to me by my children. A reminder of how truly fortunate I am to have been blessed with the ability to bare offspring. Without them, my life would be meaningless, muffin top or not.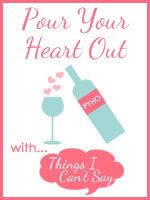 Linking up with Shell from
Things I Can't Say for her Pour Your Heart Out meme.