I confess …
I dipped into the Nutella jar at least 3x this week for a spoonful. I had too. Needed my sugar rush.
I only worked out once this week. Too lazy. Too tired. Completely and utterly unmotivated.
I confess …
My kids are driving me crazy. They're beginning to fight with each other more and more. Little H is having issues with sharing and Little B is losing her patience with her. I don't blame her. Oh, and I can't handle the whining. Make it stop! Make it stop!
I'm so happy my Little H is fully potty trained. No more diapers or pull-ups! I love that she's growing up and becoming more independent. I don't miss the baby stage at all. (Once you've had your 3rd, the baby stage becomes so overrated!)
I let Little H win a battle yesterday. She ate her dinner while sitting on my lap. I was too tired to stick to my guns and make her eat while sitting on her own chair. Sometimes sticking to my guns with her is mentally and physically exhausting. I was spent. I let it go. And I don't care.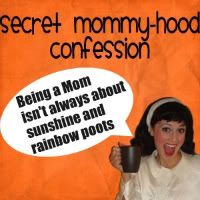 I confess …
I'm counting the days until Summer break. Only about 32 days left of which I only work half of those because I 'm just part-time.  I will gladly write my report cards and dismiss my cute little class off for the Summer. I'm so looking forward to Summer even though Spring hasn't shown it's face yet.
I really want to produce my very first vlog but haven't a clue how to do so. I also haven't the time to do it what with my kids hanging off of my body the whole time.
I feel like I'm behind in the blogosphere times because I haven't vlogged yet. Oh the pressure!
I confess …
I want an Iphone and am so mad at my wireless provider for not letting me upgrade my phones now without charging me an arm and a leg. I don't have an extra $300 floating around! Rrr … looking into other options but, in the meantime, I'm still without an Iphone. Everyone and their uncle has an Iphone!
Today, which will be yesterday by tomorrow, I had a latte and two brownies in place of a real lunch. I'm been avoiding coffee at all costs for the last two weeks but today found me weak. I'll eat a healthy dinner to make up for it.
Last but not least, I'm getting really tired of all the white hairs I'm seeing popping out all over my head. First they were showing up underneath my hair where I could hide it. Now, they're popping up on top of my head where it's visible to the entire world! I can't wear a pony tail any longer. You know how hard it is to NOT wear a pony tail?!?!  Rrr, I may just have to give in and get those darn whites coloured. I'm too young to start looking old!
Confessing is over. Now pass me a tall, vanilla latte or a glass of white wine