It's Monday ~ which means it's time for my Mama Teach Us meme!
Today, I have a guest. Deirdre from JDaniel4'sMom.com has so kindly accepted my invitation to share a story about a special activity her and her son thoroughly enjoy.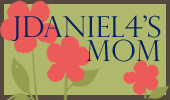 Deirdre has shared with me a story about her son's love for storytelling. ~~~~~~~~~~~~~~~~~~~~~~~~~~~~~~~~~~~~~~~~~~~~~~~~~~~~~~~~~~~~~~
"Read me a story Mama!"
It would be easy to read JDaniel a story if we were on the couch at home or sitting in the library or just about any place. Reading a story while I am driving the car just doesn't work.
"I can't read you a story right now!"
"Yes, you can! You can read one from your head!"
Now I understand what he wants. JDaniel doesn't want me to read him a story. He wants me to tell him a story.
I wish it meant tell him a story we have read at home or a fairy tale or even one I have made up to tell him before. I can retell one of those stories without putting much thought into it. No, the story JDaniel wants told to him is a new original tale woven right this minute as we drive to the grocery store.
The tale can't be about anything I want it to be about either. It can't be a thinly disguised life lesson that he has displayed a need to review earlier in the day either. It can't be a subject I would love for him to learn about.
What does the story have to be about? It has to be about robots. It has to be about robots that work at a factory. It has to about robots that work at a factory building or making something that JDaniel has decided they are making at this moment in time.
Due to the fact that I am asked to make up multiple stories about robots in a trip to the store and back. I have learned to ask Jdaniel questions about the story before I start it to make sure I don't hear the words "I don't want that story, Mom."
Here are the questions I ask:
Who is the story about? (Yes, the answer is usually robot, but maybe someday it will change.)
Where does the story take place? ( I know the answer is going to be factory, but once again I hope for a new location.)
What does the robot do? ( This changes from one tale to the next.)
What happens to the robot? (This is my favorite part. JDaniel comes up with great storylines.)
Once we have established some of the story elements, I can begin my story. No matter how bad the story is and some of them are really bad JDaniel seems to enjoy them.
Despite the fact that I tire telling similar stories day in and day out, he doesn't seem to tire of them. Jdaniel really seems to enjoy them and I enjoy that he likes them.
~~~~~~~~~~~~~~~~~~~~~~~~~~~~~~~~~~~~~~~~~~~~~~~~~~~~~~~~~~~~~~~

If you have a story about something fun or special you do or have done with your kids and want to share it via a special guest post through my Mama Teach Us meme, please let me know via email at @ BeesWithHoney@gmail.com or via Twitter at @beeswithhoney ! 
I would love to read and share your stories with my readers!