Guess where I am today?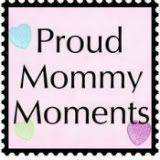 I'm hanging out with super sweet, cupcake girl Kir over in her corner because … she's invited me over to share my Proud Mommy Moments for her weekly meme.
How could I say "no" to Kir?
She's a whole lot of awesome.
So if you're already here, please hop on over to Kir's place and read me!
Will send you virtual hugs in return!