What's for dinner, Mom?  That is THE question my munchkins ask me every day after school.  Like any mother, I often ask myself the same question. What the heck AM I going to make them for dinner tonight?
Today marks the kick-off of a new monthly link-up called Why Fake It? Just Make It!  hosted by ME and Mama and the City!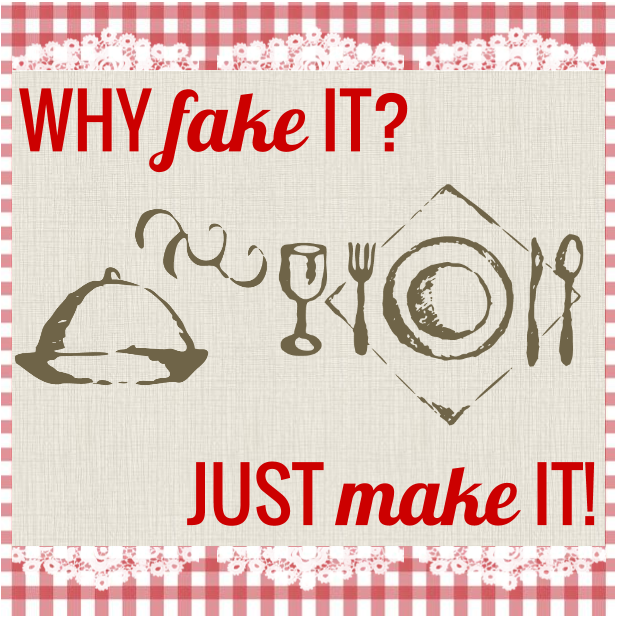 It couldn't have come at a better time. Less than a week and kids are back to school which means busy schedules and a limited amount of time for meal planning.
I need breakfast, lunch and dinner ideas.  Recipes please!
For my Why Fake It? Just Make It! contribution, I'm going to share a meal my girls enjoy eating and making themselves.  We're on a big "let the kids help make dinner" kick in our house.  We're hoping that involving them in the making of their own meals will encourage them to try new foods.
So just the other day, my girls decided they wanted to make chicken nuggets from scratch.
We looked through our Let's Cook! A Book for Kids Who Love to Cook recipe book by Pamela Gwyther and found a recipe for Chunky Fish and Fries.  Although when rummaging through our refrigerator for ingredients, we discovered we only had turkey tenderloins.  So we decided to substitute  those in the place of fish.
Recipe for Chunky Turkey Nuggets
What you need:
3 fillets of turkey tenderloin
salt and pepper
2 tbsp of all-purpose flour
1 egg
2 cups white or whole wheat bread crumbs (* I added 5 tbsp of grated Romano cheese to the mixture for added flavour.)
1 tbsp finely chopped fresh parsley
What you do:
1. Preheat oven to 400 degrees F. Season the flour and put on a plate.  Mix the parsley and seasoned breadcrumbs on another plate.
2. Roll the strips of turkey in the flour until covered.
3. Dip the floured turkey chunks  into the beaten egg.
4.  Coat both sides of the turkey chunks thoroughly with the breadcrumbs.
5.  Chill on a baking sheet in the fridge for 30 minutes.
4. Bake at the top of the oven for 15 – 20 minutes turning halfway through.  Serve with your favourite sauce. Ketchup anyone?
And viola! Turkey nuggets made by Little B and Little H.  The girls served their nuggets with a side salad and carrots and dip.  Not a crumb was left behind on their dinner plates!
We will definitely be revisiting this recipe again.
Now it's your turn! Got a recipe to share? Breakfast? Lunch? Dinner?  Just link-up a recipe below but be sure to include the Why Fake It? Just Make It! button in your post! Then hop around and visit others to collect/pin the recipes you want to try yourself.
The linky will stay open for the week but close Friday at midnight (Pacific Time).
Have fun!