The story behind the recipe  …
The other day, I came home to find my hubby in the kitchen trying out a new recipe he saw Jaime Oliver cook on his television show.  It was Beef Stroganoff.  When hubby told me it was going to be for dinner, I kind of grumbled. I'm not a Beef Stroganoff kind of girl.  Have I ever tried it? Well no,  but with a name like Beef Stroganoff it sounded more like a "man dish". You know what I mean?
Needless to say, I never complain when I come home from work and find the hubby cooking in the kitchen.  My lips remained sealed until we sat down to dinner and that's when I tried his Jaime Oliver re-creation and changed my mind about it being a "man dish".  It was really yummy; in fact, I even asked for seconds and my hubby gladly gave me more all the while sporting a cocky little smirk on his face.  Yeah, yeah … so it was good.
So ladies, if you want to make a "man's dish" for dinner and win over your hubby's heart, feel free to try this recipe.  I guarantee your man will love it and you will too!
Beef Stroganoff
Ingredients
500g fillet steak (rib eye steak) 1 tsp paprika Zest of 1 lemon, grated 1 red onion, chopped 1 garlic clove, chopped Olive oil 2 handfuls of wild mushrooms, cleaned and torn Knob of butter Small glass of brandy 50ml sour cream 2–3 flat-leaf parsley sprigs, leaves picked and chopped
Cooking Directions
1. Place the beef between 2 sheets of clingfilm and bash it with a rolling pin until ½cm thick, then cut into finger-width slices. Mix the paprika, lemon zest, salt and pepper, and use to dust the beef.
2. In a large frying pan over a low-medium heat, fry the onion and garlic till softened. Turn up the heat and add the mushrooms and butter, sauteing until the mushrooms are golden brown, and reserve.
3. Add a little oil to the pan, fry the beef for 2 minutes, turning, till browned but still pink inside. Stir in the mushroom-onion mixture, add the brandy and reduce for 1 minute or till almost disappeared.
4. Remove from the heat and stir in the cream and parsley. Serve over wild, brown rice.
And there you have this month's recipe share via Why Fake It? Just Make It!. Want to join in on all the recipe sharing and swapping? Link-up your favourite recipe with us! Our linky stays open for a week so you have time to join in.
We'd love it too if you added our Why Fake It? Just Make It! button to your post to help spread the word. Simply grab the code from the sidebar.  The more  link-ups, the more recipes we have at our fingertips!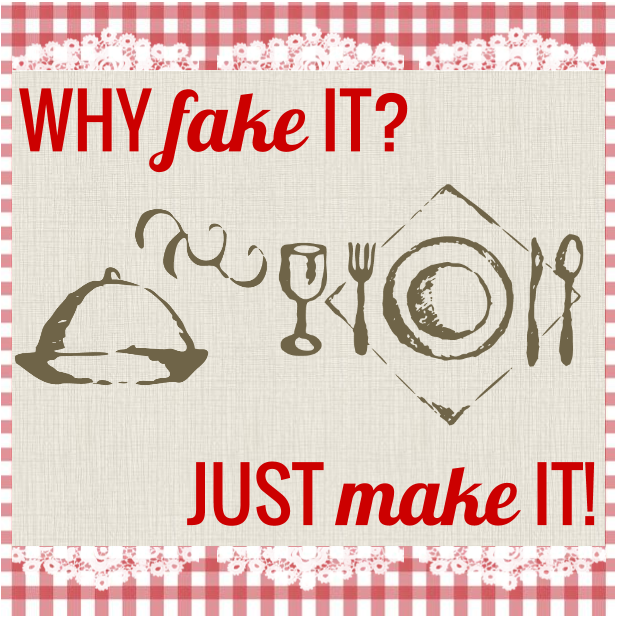 Enough banter by me! Go on and check out everyone's recipes! Feel free to PIN the ones you'd like to try yourself! For recipes of month's past, follow our Why Fake It? Just Make It! Pinterest board so you never miss out on a great meal idea!