This month, for Why Fake It? Just Make It!,  I'm sharing a recipe I have tweaked and perfected for my Gluten-Free eating husband.  Since Hubby can't eat tomato sauce or potatoes , I don't include these two ingredients but have left them in the recipe for you.
Once a week, we have pizza night. The girls choose their toppings and decorate their crusts.  Hubby and I do the same but since he can't eat wheat, I had to come up with a pizza crust his stomach can tolerate.  A friend of mine offered me a recipe she uses and after trying it out and it being so successful, I'm now sharing it with you!
Rice Crust Ingredients
2 1/2 cups white rice flour
1/2 cup boiled and mashed, creamy potatoes (optional)
1 tablespoon granulated sugar
1/2 tablespoon salt
2 1/4 teaspoon instant dry yeast
OR 2 teaspoon baking soda
1/2 cup very warm water
1/2 cup cold milk
2 tablespoons olive oil, plus more for brushing
Before going into the oven …
Instructions for crust:
Preheat oven to 250 degrees.
Using your hands, combine yeast, flour, potatoes, sugar and salt.
Gradually add the warm water and milk, until well combined.
Finally add a tablespoon of olive oil and knead further until smooth.
The dough will resemble soft dough.
Allow the dough to rest for about an hour.
Dust parchment paper to the size of the pizza pan with rice flour.
Dust the dough generously with white flour and roll out the dough on the parchment paper.
Bake pizza crust for 10 minutes.
Remove from oven.
Brush the pizza crust with a thin layer of pesto seasoning and olive oil.
Add tomato sauce and desired toppings.
Bake for another 15 to 20 minutes or until the crust is nicely browned.
Remove from the oven and sprinkle with fresh parsley and cilantro.
Eat and enjoy!
Cooked pizza ready for eating …
Every week, we use the same recipe but change up the toppings.  I make the crust as soon as I get home from work so it's fresh.  I make a separate pizza for myself on which I add tomato sauce. I love my pizza sauce!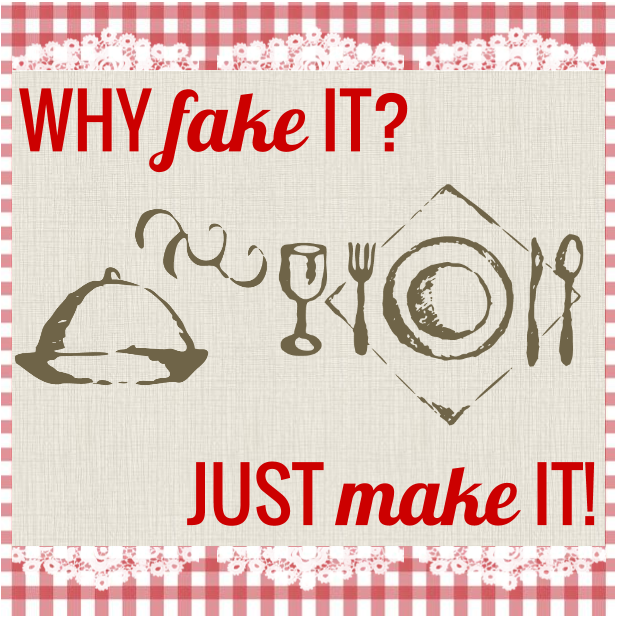 Have a great recipe you'd like to share with us?
Join us!  Add our Why Fake It? Just Make It! button to your recipe post and link-it up below.
Be sure to check out the other recipes.
Pin the ones you love & tweet the ones you think your friends would like!
Comment love is always welcome. ♥